Pipeline companies use inspection services to ensure their projects are constructed and repaired in accordance with all applicable codes, specifications and permits. The primary objective of our inspection services is to ensure that the integrity of our clients' pipeline is not compromised.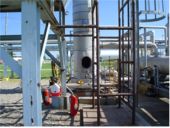 The Texian Group
provides a full range of pipeline inspection services to include new construction, maintenance rehab, compressor/pump stations, and other oil & gas related facilities. The Texian Group's inspectors are highly qualified, bringing a wealth of knowledge and expertise, industry codes and standards. Each inspector is carefully selected to ensure their expertise meets or exceeds the client's project needs. Our inspectors can be involved in every stage of a project or a single phase specified by the client.
The Texian Group
will ensure that its inspection personnel are OQ (Operator Qualification) certified in accordance with 49 CFR, DOT Part 192, Subpart N. The intent of the qualification rule is to ensure a qualified workforce and to reduce the probability and consequence of incidents that may be caused by human error. The Texian Group has certified internal Evaluators and Proctors to administer the required qualification testing and can qualify inspection and survey personnel using NCCER (via ISNetworld), VeriForce, OQSG and/or EWebOQ.